In the martial art, Aikido, one of the first things you learn is how to fall down. Ukemi is a warm-up practice that trains you how to fall and not get hurt.
Learn­ing to fall cor­rect­ly is a fun­da­men­tal skill that will fos­ter your over­all tech­ni­cal growth. The qual­i­ty of falling skill will direct­ly impact the qual­i­ty of your attacks as uke…
When I read this, I began to wonder why the concept of falling down safely was absent from my professional life. How could I help my fellow project managers (PMs) fall better and safer? It's not like we can go before a steering committee and order up a helping of Doomed to fail, with a side of career-limiting humiliation—uh, hold the career impact. Even if we could, we'd never wish that on anyone. We need a better way to fall.
Training fresh PMs how to manage impossible expectations and difficult conversations is a practice we fail at when they enter the playing field. We must teach PMs the skills they need to get through new challenges without getting pummelled… and how to get back up when they do get pummelled.
When it hurts to fall
With each new crop of project managers entering the industry, comes a new flock of personalities discovering how to manage all the challenges and impossible expectations that come with the job. The disturbing thing is, we don't learn from our predecessors—or rather, they're not teaching us their bag of tricks. Why should each new generation of PMs have to suffer the same struggles we did, without the benefit of learning from those who have already been through it? New PMs shouldn't have to spend 10 years learning how to battle a succession of project nightmares on their own. Managing projects should be fun. Unfortunately, no matter how good we get at this gig, we can't convert clients who favour delusion over reality, claiming us to bully and blame when things don't work.
When I learned how to do this job, I had a few good mentors to turn to for advice. What I didn't have was a master to guide my responses to those #whiskeytangofoxtrot moments that kept hitting me sideways. There were a number of times I turned to my mentors only to get: "Yeah, dude—that's messed up… good luck with that." The hard moments aren't unique. We all go through them. It's just a shame that we have to figure them out on our own. Now, when I work with new PMs or ScrumMasters, I spend considerable time practicing responses to "what will you do when X happens" situations.
Let's say you're working as a Scrum Master and facilitating a Daily Scrum meeting. When the Senior Vice Executive of I Will End You interrupts the meeting, demanding she pull someone out of the stand-up to deal with Special Emergency X, how do you respond in a way that demonstrates to the team that you are protecting them while showing the appropriate amount of deference to the executive? If you aren't prepared for this moment ahead of time, it's unlikely you'll have time to formulate a safe response strategy. When this issue crops up, it requires immediate, decisive action. If new PMs were trained for these moments, they'd have their responses ready.
This is how it works in Aikido: learn how to fall fast and get up—or avoid the hit in the first place.
How to fall down
When I discussed my interpretation of how Aikido concepts apply to managing projects with a long term practitioner and friend, he opened up on the topic of sparring: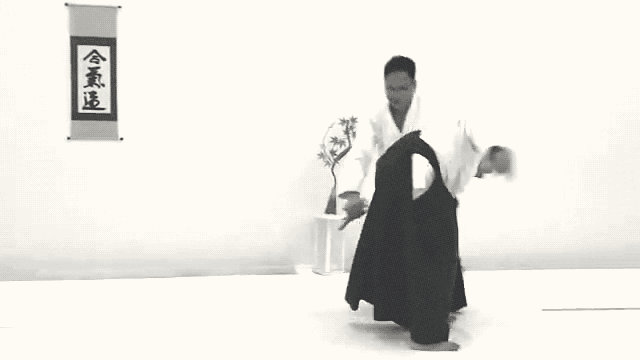 We try to remem­ber that we want every­one to be able to go to work or come back to prac­tice again tomor­row. We do not want any­one to be dam­aged to the point where they can not keep participating.
Good thing to remember in our line of work. One important aspect of Ukemi is that we need someone to help us. This could be a mentor, accountability partner, or a co-worker we trust. In Aikido, the nage is the person applying a technique, and the uke is the recipient. When sparring, the nage is responsible for the safety of the uke. This means, when practicing the technique, the nage must be mindful of the uke's reaction and make adjustments to keep her safe.
If we choose to act as the nage, we can help new PMs gain experience dealing with some of the more challenging situations they're bound to face. Things like: uncomfortable conversations, heated conflicts, or how to deliver bad news. Establishing trust beforehand is important. If we're an uke, or receiver, we should know our nage's intent to help, even though it means we're working through painful situations.
Practice makes 'less un-perfect-ish'
If you don't want to blindside a fellow PM with a secret character test like the Kobayashi Maru, create fake scenarios so you can practice falling and getting back up. One great way to prepare PMs for the difficult moments is through role-playing. Play out a scenario that enables her to work through a tough PM experience. Imagining a best-case scenario deflates her fear of the unknown. If she's shy about group situations (or is a terrible actor), get her to talk to someone she trusts about specific stressors.
Falling down is part of the job
Project managers are not normal people. Our chosen profession places us in situations where we sign up to take responsibility for things we cannot control and attempt to manage "that which cannot be managed." When things go off the rails, we are expected to get them back on track while getting yelled at for allowing them to slide off in the first place. So, the bad stuff is important. It teaches us how much we can handle. It helps us grow. If we're lucky, we get little bad moments to practice with so we can be ready for the big bad moments.
If you're a PM who aligns with the natural tendency to avoid failure, show your colleagues empathy, but also hold up the mirror and show them what they're really avoiding. When they pay attention to the thing they want to do the least, it'll help them find the thing they need practice the most. It'll give you a reflection to work with, too. If you give opportunities for your PM to practice these difficult events, her confidence will serve her later when the bigger, scarier things come knocking.
Do your Yoda-best to teach new project managers to rise to the challenge of our accidental profession. Help them learn to fall (and fail) safely. When we help new PMs fall and through practice, develop the confidence they need to face risky situations, and empower them to take on whatever's next, we are making them stronger. This is what separates those who succeed in our profession from those that get ground up by it. Protect your uke. Help her fall down gently.